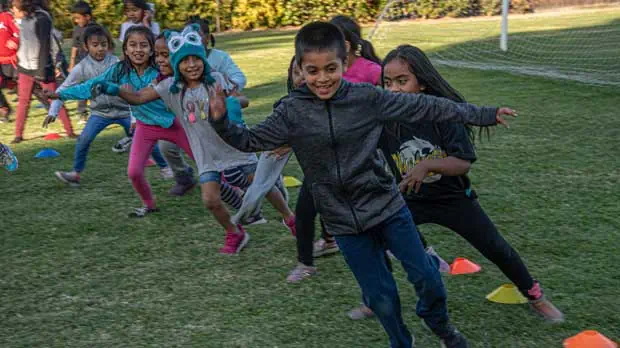 Growing up in Minnesota, Ashley Hunter was involved with sports every season of the year. From skiing in the winter to track in the spring, some of Hunter's fondest childhood memories stem from playing sports.
"I realized it helped me become who I am today," she says.
"It's just a really important part of my development."
Nearly 10 years ago, the Menlo Park mother of 4 was shocked when she learned that children in underserved Palo Alto neighborhoods were not playing sports because of high costs associated with youth sports programs. Wanting all children to have the same sports-based experiences both she and her own kids lived through, she took it upon herself to drastically change the ways youth play.
"I realized how wrong it was that not every child has the opportunity to be active and play sports and get all of the incredible physical, mental, and social benefits of playing sports."
"I really, really believe sports is just a critical part of everyone's healthy development."
In order to combat this issue, Hunter began visiting schools in East Palo Alto and provided sports programs during after-school hours. However, upon interacting with the young students, she quickly realized they had not adopted basic movement skills that are crucially needed to excel at more complicated physical activities. The vast majority of the children were lacking hand-eye coordination, agility, and even confidence in their strength. As a result, Hunter founded and became the executive director of Fit Kids, an organization dedicated to building fitness skills and proving to youth that playing sports can be fun.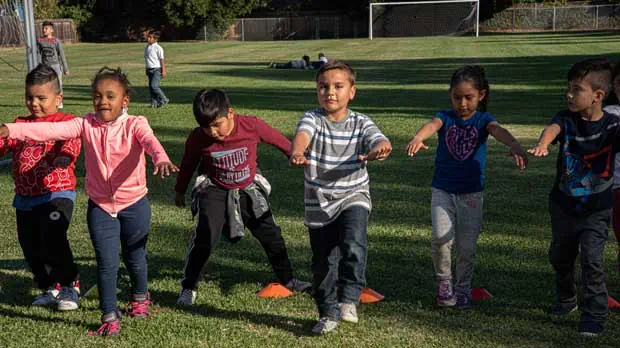 Fit Kids is present in 2 East Palo Alto schools as well as 81 partner sites across the Bay Area and Los Angeles. In Palo Alto, the organization sends teachers to facilitate tests that track participants' progress and are then compared to national figures. For partner sites, Fit Kids provides their programming both during school and after-school hours and incorporates various organizations, including the YMCA, to offer additional services.
While improving the physical health of participants is a major goal of the organization's work, Fit Kids is structured to engage the entire body. Activities that incorporate weights or require the children to do push-ups can be followed by yoga and mindfulness exercises that allow participants to become "ready to play sports or just to be active and have a more healthy active lifestyle," says Hunter.
Due to the physical benefits of their programming, Fit Kids also improves the mental and emotional well-being of participating youth. In the majority of areas where the organization is present, many children and young adults turn to violence or drugs because they don't have a positive outlet that keeps them preoccupied after school. Even living in unsafe neighborhoods can prevent young children from spending time outdoors, critically impacting their natural physical development, explains Hunter. As a result, Fit Kids helps children to build the confidence and basic skills they need to join sports teams, build long-lasting relationships with their teammates and coaches, and learn the importance of winning and losing.
"Sports is just a way to keep people on a positive track, but without programs like Fit Kids, these kids are not ready to play sports," says Hunter.
"We're an important piece to the puzzle."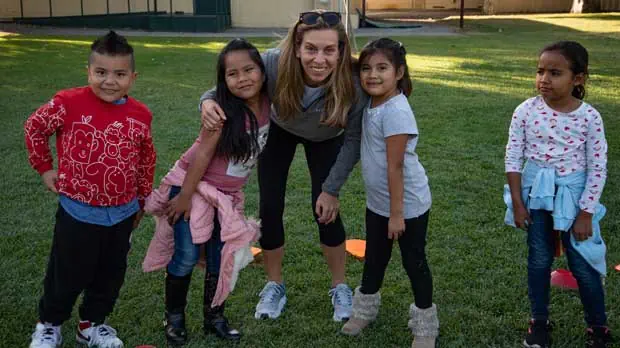 Due to the greater need for their programs over the last 3 years, Hunter explains that Fit Kids is continuously seeking funders and is setting its sights on expanding to other schools across the country. While reporting on the children's progress is imperative in acquiring funding, she states that connecting with parents and teaching them about the importance of both physical and mental health is as important but can be challenging. The organization routinely sends surveys to parents and teachers to accurately measure the social-emotional effects of the programs on the lives of youth and is planning to increase its use of metrics within the upcoming months.
"We are excited to tell the world that we're here, and we're really excited to keep growing and our goal is, number one, to make an impact on these kids and then after that to reach more and more kids," states Hunter.
Hunter and the rest of the Fit Kids team is determined to show that sports can be fun and that "playing with a purpose"can build healthy lives and communities.