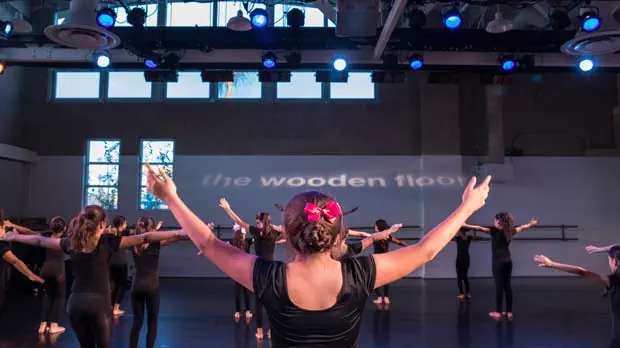 By Priscilla Rodriguez and Alexandra Fradelizio 
It started in 1983 in Orange County, California as a summer dance program that simply aimed to get at-risk youth off the streets and into a safe and creative space. The Wooden Floor nonprofit, once known as Saint Joseph Ballet, was developed in an effort to make sure children had an opportunity to keep developing during the summer months. The effort was immediately a major success.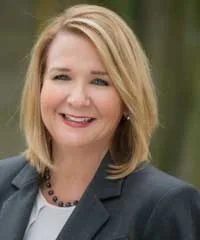 By the early 2000s, the organization expanded its reach from 40 students to 375 and now 475, and its services and programs tripled to offer students support in the creative, academic, and personal aspects of their lives. 
By integrating more programs and services, leaders of The Wooden Floor aimed to transform the life of every youth they came into contact with and to help each one realize his and her full potential. 
"Our goal was – and is – to transform more young people in low-income communities through the power of dance and access to higher education," says Dawn Reese, who has served with the organization since 2012 and as Chief Executive Officer since 2016. 
Dance and resources to obtain a higher education are just two of the elements that The Wooden Floor believes help youth realize their full potential. As part of the "Theory of Change" organization model, dance helps children to develop key skills in creativity and collaboration while resources to obtain a higher education provides them with a key opportunity to succeed in life. 
When Reese stepped into the role, her passion for education helped kick start this model, and a series of ideas and approaches continued to expand the organization's impact in the community of Orange County, and across California and other parts of the U.S., including its first partner in Washington D.C. and a second location in Santa Ana.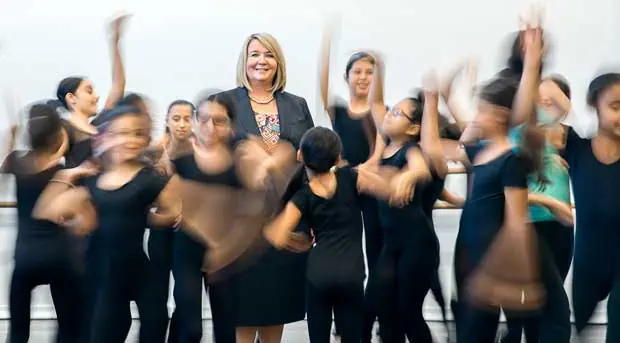 Today, the creative youth development nonprofit provides a host of services for youths in elementary, middle and high school, including dance and creative courses, academic services, and student-parent workshops. The organization even offers scholarships for students who want to pursue a higher education. Though not a requirement, Reese says the organization leaders of course hope that students will see that there is value in obtaining a higher education, and the organization will be there to support them if they choose to pursue a degree As of now, 100 percent of students who graduate from The Wooden Floor do, in fact, enroll in college.
But the impact of The Wooden Floor has been much more than preparing and supporting students to go to college. 
"We hope that when they leave, they reach their full potential and reach their own dreams and make positive decisions," explains Reese. 
A crucial goal of the organization has been to help students feel supported and provide them with access to resources that help them have more opportunities to succeed and overcome hardships. While some students are facing a few hardships, others are facing many, so the organization has to handle each student case-by-case. 
When it comes to providing support for youths, there is no one-size-fits all, explains Reese. But with some key resources and supportive services, the organization hopes to reach and positively impact children's lives.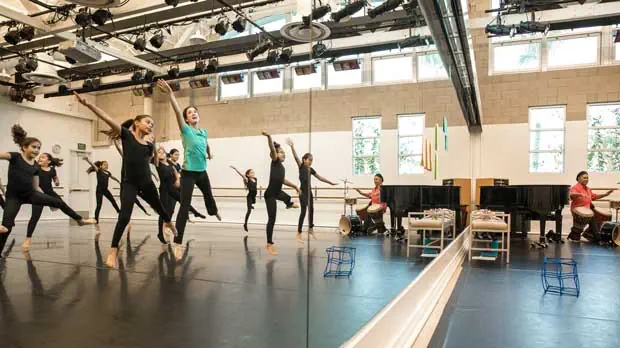 "Any challenges that the individual child may be facing…we're here for them to guide them and their families through all of that," says Reese. 
As Reese looks to the future of The Wooden Floor, she shares a rigorous 10-year plan that involves driving social innovation, expanding impact, and uplifting the community as a crucial part of reaching more youths in California and across the country. She hopes to drive the implementation of new services, including mental health services, and she also hopes to invite more participation from the community and the alumni of The Wooden Floor who are eager to give back. 
She hopes that within the sector, the impact of their work will shine.  
"[I want us to share] with abundance how we're making an impact and how we're an important part of the fabric of our community," she says. 
"And I [want us] to feel proud of that." 
Learn more about The Wooden Floor and Donate.