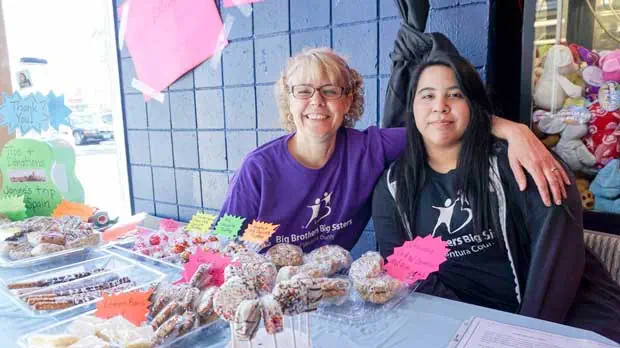 By Alexandra Fradelizio | m/Oppenheim.Org Writer
Since 1904, the nationwide organization Big Brothers Big Sisters has helped children reach their full potentials by partnering them with an adult mentor who not only provides guidance but also becomes their friend as they grow. Next year, the Big Brothers Big Sisters of Ventura County (BBSVC), which helps over 1,000 youth annually, will celebrate its 50th anniversary. Throughout its existence, BBSVC has altered its services to center on trauma-informed care while continuing "to provide strong and enduring professionally supported one-to-one mentoring relationships that change children's lives for the better forever," says CEO Lynne West, who has been with the organization for the past 32 years.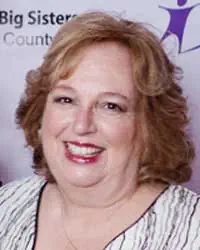 The vast majority of participants, who range from preschoolers to teenagers entering their first years of college, come from low-income, single-parent or foster care households, and more than half have been exposed to abuse or neglect. West and BBSVC strongly believe that prevention is much more effective than intervention in breaking cycles of harm and abuse, so the organization begins to guide children at a young age in establishing successful futures by cultivating their interests, relationships, and goals.
"We're all about getting them on a path that they can see for themselves, and they can see a promising future," she explains.
In partnerships with organizations and agencies, such as the US Department of Fish and Wildlife, BBSVC brings services to youth in 11 schools throughout the county to help them find their voices and use their knowledge to make effective changes despite any barriers they face in their personal lives. The organization even supported a youth group that successfully lobbied for a farmer's market in their neighborhood and spoke to a county transportation board about their school's bus schedule.
"Giving kids that opportunity really boosts their self-esteem because they can see that they are making a difference" West states on the opportunities provided by BBSVC.
Of course, the main program of BBSVC is its adult mentor relationships. The organization finds adult mentors, called Bigs, through outreach to companies and fairs. After an extensive background check, the volunteer adults are matched with children, called Littles, based on their individual personalities, interests, and desires to participate in new activities. It is through these bonding activities, such as visiting a local restaurant or reading together, that the Bigs and Littles cultivate a friendship, one in which they learn from each other. In many instances, the Littles often feel the adults in their lives, whether they are doctors, teachers, or counselors, only care about them because they are being paid. However, the Bigs provide genuine, non-judgemental, and unwavering support through any obstacles and challenges the Littles face. It is because of these friendships the vast majority of Littles in BBSVC have improved academic performance and graduate high school on time, and a staggering 90 percent are more likely to attend college.
"We become somebody they can trust to hold their heart," says West, who became a Big herself 10 years ago and maintains a relationship with her Little.
"We're the constant in their lives."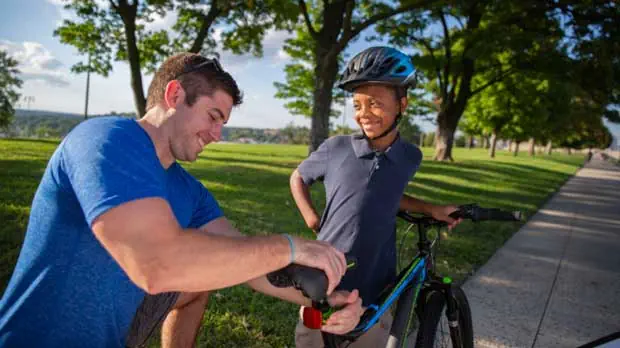 One story that attests to the incredible bond between Bigs and Littles is the relationship of Mika and Larry. Mika grew up never meeting his biological father and lived with his mother and stepfather, a paraplegic who tragically died just a couple years after the two were married. Losing the only male figure in his life, Mika became insecure and quickly gained weight. Upon joining BBSVC, he met Larry, an executive at a Fortune 500 company. While the two initially didn't have many interests in common, "I saw the personalities really mesh," said West. Larry identified that Mika needed a male figure with whom to bond, and the two quickly became friends. Mika adopted Larry's interest in marathon running, which not only led him to lose weight but also drastically boosted his self-confidence. This belief in himself led Mika to pursue his interest in the performing arts. Since his mother didn't drive, Larry constantly drove Mika to and from practices and had meals with him in between. The support from Larry and BBSVC led Mika to eventually receiving a $20,000 scholarship to Harvey Mudd where he graduated with over a 4.0 GPA. From attending his graduation to being the best man at his wedding, Larry was always present for any milestone Mika made, and despite living multiple states apart, the two visit each other and continue to cultivate their friendship to this day.
Through the selfless dedication of volunteer mentors, BBSVC is making an incredible impact on the lives of children every day.
"It's amazing to me how much our volunteers start integrating these children into their lives," says West.
"It's one of those relationships that I know will last forever."
Learn more about Big Brothers Big Sisters of Ventura County and Donate.