By Alexandra Fradelizio and Priscilla Rodriguez | m/Oppenheim Media Writer
Between Maryland, Washington D.C. and Virginia lies an important nonprofit that serves as a catalyst in the diversification and growth of the classical arts community.
For nearly two decades, Coalition for African Americans in the Performing Arts (CAAPA) has helped hundreds of children, teens, adults, and seniors to become more involved in the world of classical music. Through a combination of outreach, free education, performances, student scholarships, and free music programs, CAAPA designed a strong platform for people of color to immerse themselves into the world of classical music.
"So often in our community we have people pushing for [young people of color] to be athletes and gospel singers or jazz musicians" says Pamela Simonson, Co-Founder, Board Chair, and Education Coordinator of CAAPA.
"And classical music is not necessarily highlighted as much in the African American community."
Recognizing the absence of platforms for people of color in the realm of classical music, Pamela and her brother, Victor Simonson, founded CAAPA in 2002. The siblings decided to take their own passions for classical music to another level in order to support a new and more diverse era of classical musicians.
Pamela explains that throughout their childhood, both her and her brother had a strong support system helping them to navigate and pursue their passions as musicians in New York, and that support system became an important ingredient to their success.
"We were grateful to have that foundation in our childhood and knew it was important for us to be that foundation for others," she says.
In the process of shaping CAAPA, the Simonson's mother, Terri Allen, a retired writer, helped to transform a passion project into an organization that would eventually forge hundreds of partnerships with schools and organizations who also wanted to invest in bringing classical music to more diverse populations.
"When my two children became passionate about giving back to their community, I felt that what I should do as a mom is support them," says Terri, who is now the organization's Executive Director.
"I had no idea when I began helping them by making phone calls and arranging different partnerships… that it was going to evolve into what it has become today," she says.
The organization transitioned from a passion project and community resource to an official 501(c)(3) about five years ago when the team decided that it was time to take their project to another level in order to make a greater impact on the community.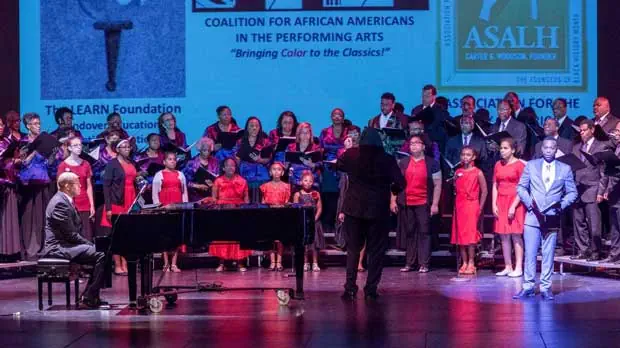 Today, CAAPA offers several programs and educational opportunities for children as young as four years old, all the way to senior citizens. For the younger populations, CAAPA offers workshops and mini programs at schools, churches, and camps, where youth are exposed to classical music early on and taught to compose. For older high school and college students, the organization offers scholarships and opportunities for participants to perform and explore their talents and passions for the art.
While CAAPA seeks to empower black classical musicians to exercise their talents, Pamela says the organization hopes to diversify the field at large. This year, one of its annual concerts features a Korean baritone, a Jewish-American soprano, a Puerto Rican-American mezzo soprano, and an African American tenor, all performing together.
"We want to bring color to the classics and allow for diversity in our programming, and we want to unify the community as well," says Simonson.
As the organization continues to expand its own horizons and create opportunities for people of color in the world of classical music and performance, the next step for CAAPA is to acquire more funding and to find new ways to bring in both audiences and performers of diverse backgrounds.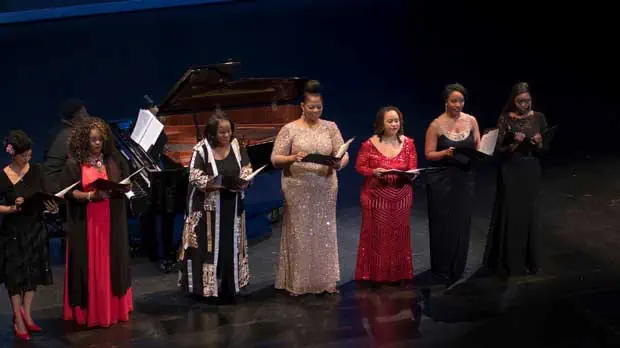 Allen explains that while her staff does an incredible job of supporting and inspiring new musicians every day, it would be her team's dream, as well as Simonson's, to be able to dedicate themselves full-time to the cause.
Of course, it is no secret that securing funding in the nonprofit world is a major obstacle for any organization in the U.S., and CAAPA is no exception. Simonson says that she, like many others on the team, will continue to be a volunteer until the organization can secure more funding. For now, it will be necessary for many of the staff to continue their day-time jobs.
"If we were able to do this every day all day…" says Simonson.
"Can you imagine what we could do?" responds Allen.
"That would be such an amazing opportunity for all of us to give this organization what it deserves."