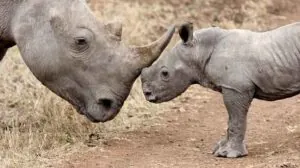 Source: KQED News
Following the death of one of the world's last white rhinos, news has spread that a San Francisco startup is developing a method to print 3-D rhino horns genetically identical to wild rhino horn. The startup, biotech company Pembient, believes that injecting this identical synthetic substitute into the black market will "drive down the cost of the horn and undercut the incentive for poaching," writes KQED.
Critics of the movement worry that Pembient's plan would introduce new demand for wild rhino horn, expanding its black market and the accompanying violence.
Still, the international conservation community acknowledges that radical action must be taken to preserve the species.
Read Full Story at: KQED News