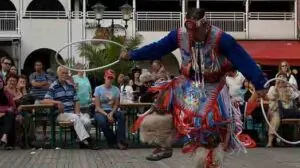 Source: KQED News
A new project run by the Smithsonian and the Alliance for California Traditional Arts is picking up where the legendary Sidney Robertson Cowell left off in archiving music from different ethnic groups from across California.
'Sounds of California,' in collaboration with Radio Bilingue "will document contemporary music through the lens of migration and immigration," reports KQED. The recordings from these efforts will be housed in the Library of Congress.
With the help of ethnographers and folklorists, the project will also record performances and music that outsiders to immigrant communities rarely see, like the "Diablo" dances of the traditional Mixteco dance group Nuu Yuku.
Read Full Story at: KQED.org