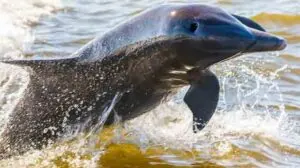 Source: Baltimore Sun
A species of porpoise endemic to the upper Gulf of California is receiving unprecedented attention from U.S. and Mexican governments and prominent wildlife groups Greenpeace and World Wildlife Fund, reports the Baltimore Sun.
Trained observers from the National Oceanic and Atmospheric Administration in La Jolla, CA and Mexico's National Institute for Ecology and Climate Change have been surveying the endangered "vaquitas marinas" in a $3-billion initiative funded by the Mexican government. The government has also upped enforcement on a two-year gill net ban among fishermen in the upper gulf.
The restrictions from the conservation efforts have received backlash from fishermen who claim they are not receiving adequate compensation for their loss of livelihood.
Read full story at: Baltimore Sun