by Priscilla Rodriguez
Suicide – death caused by injuring oneself with the intent to die – is the 12th leading cause of death in the US, resulting in about 125 deaths per day in the US alone. Families, friends, and peers of victims are also affected by the ripple effect of tragedy and loss. Knowing what to say to those affected is not always easy, but there are many ways to show up for someone who has experienced such a loss.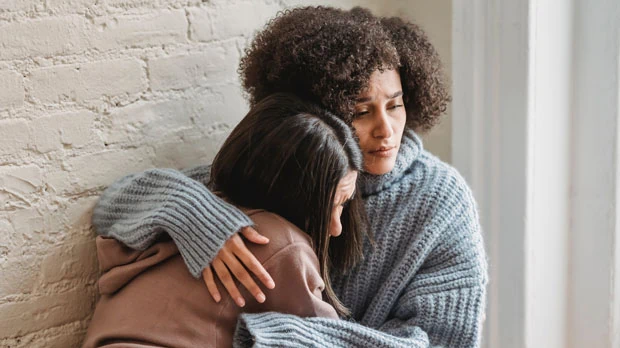 Below are just a few ways to show support, compassion and sympathy for someone who has lost a loved one to suicide.
Become an ally

by raising awareness on suicide prevention and the importance of caring for – and investing –  in one's mental health. Share resources with your network, donate to organizations that work with mental health, suicide and crisis prevention, and check in on friends and family's mental health.  
Be open to discussing

the topic of suicide candidly. This openness can help reduce the stigma and judgment that loved ones may fear in talking about the tragedy. 
Listen with no time limits.

Talking through the loss can be extremely helpful for those who have lost a loved one to suicide. They may choose to revisit their loss and tell their story repeatedly, and having someone to listen is crucial for their grieving process. 
Ask about, remember and acknowledge dates

that may be particularly difficult for that person during the year – birthdays, holidays and death anniversary. 
Ask questions.

Focus on asking questions about their own emotions and reflections; questions about the deceased person's life and memories they may want to share. Avoid asking for details about the incident itself, unless the person chooses to share that on their own, as the question may come across as insensitive. 
Help care for them.

In the middle of grief and loss, people tend to stop taking care of themselves. Help out by cooking or ordering meals, offering to help take care of their pets or home, or other thoughtful ways that may help them make it through their grief. 
Use the deceased person's name.

It's important to speak the name of the deceased person when talking about them. For loved ones, sometimes it begins to feel as though the person will be forgotten and not speaking the deceased person's name can make it feel as though you are avoiding and not open to speaking about the reality of the loss they're experiencing. 
Set up a memorial, help with funeral arrangements, or set up a GoFundMe. These are the responsibilities that close family and friends sadly become in charge of when a loved one or friend dies. It's difficult to deal with grief while having to work on logistics at the same time. Support, initiative and management of these logistics can go a long way in pulling some weight off a grieving one's shoulders. Offer to organize any of these duties for them. 
Be present and show up genuinely.

Everyone processes tragedy differently. There's no special formula for supporting someone who lost a loved one to suicide. Be sincere in showing up for that person as best and most respectfully as you can, and if you need to, simply ask the person how you can show up for them in the most helpful way. After all, your support and desire to assist will be felt and appreciated. 
Learn about suicide prevention to help save a life. 
https://save.org/about-suicide/warning-signs-risk-factors-protective-factors/ 
____
mOp-Ed pieces reflect diverse opinions about the nonprofit world and we welcome yours. If you would like to be a guest writer for mOppenheim.Org, please contact us for more information.