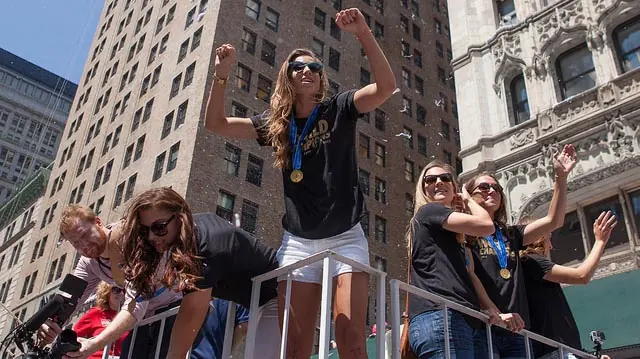 Source: The New Yorker
In 2015 the USA Women's Soccer team defeated Japan 5-2 while 25 million people in the US watched the game on TV — "the largest-ever television audience for any English-speaking broadcast of any soccer game, men's or women's," wrote the New Yorker.
US. Soccer however refused to compensate the women's soccer team at the same level as the players on the men's soccer team.
"At the end of March, Carli Lloyd, Becky Sauerbrunn, Alex Morgan, Megan Rapinoe, and Hope Solo went public. They filed a federal complaint accusing U.S. Soccer of wage discrimination. They earned significantly less money—roughly a quarter less, according to the complaint—despite dramatically outperforming the men's national team, and despite producing nearly $20 million more in revenue for U.S. Soccer than what the men's team brought in."
The argument from the president of the United States Soccer Federation, Sunil Gulati, was that the women's compensation was not an issue of equal pay for both genders, but rather that the market for women's soccer was just not as big as men's and not pulling in enough revenue to compensate them the players equally.
The case now moves forward in court this month as yesterday Senate passed a resolution requiring U.S. Soccer to stop gender pay inequity.
"The issue of equal [pay] goes way beyond one element of broadcast agreements," said the C.E.O. of the Women's Tennis Association, Steve Simon, which recently established equal compensation for men and women in tennis, regardless of market demands. The case opens up the issue of equal pay for women across all sports, as more than market values, the issue lies in the lack of respect for all athletes equally.
Read full story at: The New Yorker