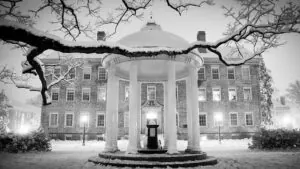 Source: dailytarheel.com
Ackland Museum, part of the University of North Carolina at Chapel Hill, is showing an exhibit from its permanent collection to inspire a discussion of race at the university. "Racial Violence and Resilience: Questions and Currents in African American Art" showcases the work of nine African-American artists as well as a one white artist sympathetic to African-American history and oppression, with many of the pieces dating back to the early 20th century.
"For more than a year, the checkered past of the University and the racial issues of the present have been at the forefront of the student body's collective conscience," writes The Daily Tar Heel, UNC Chapel Hill's student newspaper. In this climate, the exhibit intends to "leverage art as a medium for asking questions."
Already it has achieved this goal. Yesterday, many students, staff, and faculty attended a lunch seminar in which the museum's communications director spoke about the questions posed by the exhibit, demonstrating its relevance to the UNC community and perhaps universities across the country.
Read full story: dailytarheel.com