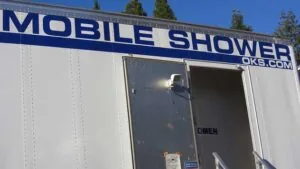 Source: San Diego Union Tribune
Following action taken by other nonprofits focused on homeless services, nonprofit Think Dignity has obtained a mobile shower for homeless individuals that should be ready for use in two months.
Partnered with the organization Burrito Boyz, Think Dignity raised the money to purchase the mobile shower, which is equipped with gender-specific stalls and "is about the size of a horse trailer, roles on one axle and is towed behind a truck," writes the San Diego Union Tribune.
CEO of Think Dignity, Anne Rios, said the idea for the shower came directly desires of the homeless themselves, as a lack of hygiene is a major barrier to getting employment to get off the streets.
As of now, the shower is ready for use, but needs host sites and partner organizations to make it available for the San Diego homeless.
Read full story at: San Diego Union Tribune