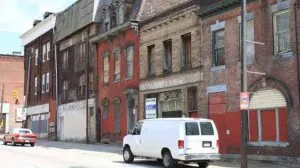 Source: Bloomberg Business
A recent article in Bloomberg Business draws attention to the utilization of demolition as a path to urban renewal by certain depressed U.S. cities. For instance, just last week, Maryland Governor Larry Hogan promised to spend $75 million to tear down 4,000 vacant houses in order to promote Baltimore's urban recovery.
As Bloomberg puts it, "…Baltimore joined a growing club of declining U.S. industrial hubs that have decided they have more housing than their populations can support." Demolitions like these clear the way for redevelopment, increase the values of nearby properties, and may reduce burglary, vandalism, and theft.
According to the policy director at the nonprofit Center for Community Progress, advocates for this kind of "blight elimination" want Congress to make money from the $2 billion Hardest Hit Fund available to more states to spend on demolition.
Read full story at: Bloomberg Business