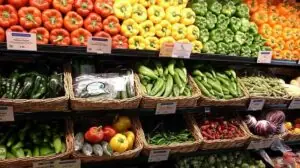 Source: Union of Concerned Scientists
The tendency of national food policies to ignore- or reinforce– the unhealthy, inequitable food systems in low-income communities has gained renewed attention since the widespread criticism of the recently updated USDA 2015-2020 American Dietary Guidelines.
Following this update, the Union of Concerned Scientists (UCS) released a new report titled, "Fixing Food: Fresh Solutions from Five U.S. Cites," which "looks at how local governments and community groups are working to make affordable, healthy food available to more people and empower them to build better food systems."
The report reviews food justice initiatives in Baltimore, Memphis, Minneapolis, Louisville and Oakland which range from improving zoning to promote urban agriculture to launching virtual supermarkets for communities in food deserts.
These innovative local movements will hopefully serve as models for other communities looking to establish healthy, inclusive food systems.
Read the Full Press Release at: www.UCSUSA.org