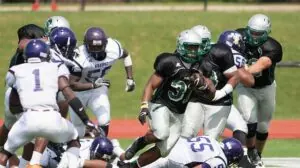 Source: Reuters
The new film "Concussion," which traces a forensic pathologist's quest to expose the truth about NFL brain injuries, has renewed attention to one of the biggest controversies plaguing America's favorite past time, reports Reuters.
According to its filmmakers, Concussion, which tells the story of Dr. Bennet Omalu (Will Smith), may prompt parents to reconsider allowing their children to play football. Former player, Rick Walker, hopes that mothers who see this movie can use their power to make the sport safer for their kids at a "grassroots" level.
The NFL's Senior VP of Health and Safety, Jeff Miller, expressed that "…he would be happy if the film spurs conversation on how to prevent brain injuries."
Approximately 5,000 former players have sued the NFL for brain injuries, alleging that the NFL covered up the health consequences of repeated head trauma. Some of the game's top players have been diagnosed after death with chronic traumatic encephalopathy (CTE), a progressive degenerative brain disease associated with repeated blows to the head.
Read Full Story at: Reuters