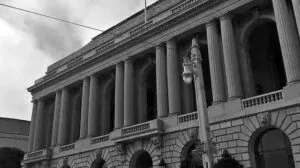 Source: sfopera.com
Consolidating the company's operations to a single location, the SF Opera has announced that it will be opening the Diane B. Wilsey Center for Opera in late February of 2016 in the newly renovated Veterans Building, adjacent to the War Memorial Opera House. In the new facilities, the SF Opera will house offices, exhibition galleries, archives, costume studios, as well as the center's main feature- the Dianne and Tad Taube Atrium Theater.
In the Taube Atrium Theater the SF Opera plans to produce high quality, non-traditional repertoire for public audiences in an intimate, but state-of-the-art venue. The scheduled season for the new theater has been released with the announcement of the center's opening in 2016.
The SF Opera chose to name the center after prominent San Franciscan socialite and philanthropist, Diane "Dede" Wilsey, to honor her lead donation to the campaign and continued leadership in the San Francisco art world.
Read full story at: sfopera.com